Home The Church The URC News Letter Thornbury Churches Together Fair Trade Thornbury Town What's On
Vision 4 life
Location Map
Links
---
Fair Trade does exactly what it says on the label. It

guarentees

a fair price paid to farmers of developing countries,

for

their produce.
Thornbury

is now designated as a Fair Trade Town. Look for the above logo in shops and premises where Fair Trade Goods are available.
---
Fair Trade is not a charity or brand name

, but

a workable trading model which enables producers, especially farmers in third world countries, to obtain a fair and stable price for their produce.
Fair Trade is readily available in

Thornbury

at

, Oxfam

, the United Reformed Church and Baptist Church have been selling a range of Fair Trade goods for a number of years. But over the past 4 years

, with

the advent of Fair Trade Town status, products are now available from a number of outlets in the town. Look for the Fair Trade Logo in shop windows.
Thornbury

Fair Trade Directory
Thornbury

Town Council

have

produced a local directory of places where Fair Trade Goods can be purchased. The Directory is updated regularly and is available from the Tourist Information

Center

,

Library

, Armstrong Hall Complex, the

Chantry

, and most churches within the town.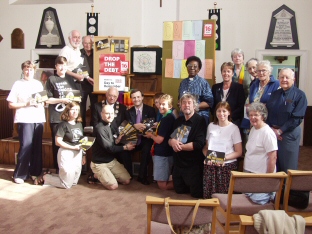 Recently early on a Monday morning,

our

church acted as host to local MP Steve Webb and representatives of

Thornbury

, Yate and Frampton

Cotterel

churches.
The purpose was to present to our MP Action Cards from all of the churches,

urging

Gordon Brown to use his influence on the world stage, and have the debts owed to the developing world to the developed world, cancelled.
These debts were incurred in the 60's and 70's,

when

developing countries were encouraged to take out loans for various projects. Some of which were good and

worth while

,

whilst

others were for white elephants or for use in buying arms to prop up dictator regimes. Initially these countries were able to make payments off their original loan. Since the 1908's however interest rates have increased to such an extent,

that

many of these countries can just about manage to pay the interest charges levied. In order to meet these payments

, drastic

cuts in public services have had to be made, which has meant that in most of these countries health and educational services have suffered. In some cases they are

non existent

.
Another aspect of the Justice and Debt campaign,

is

the price that local producers are paid for the commodities that form part of our daily foods. With today's trend in globalized corporations,

and

their high profit ethos, has led these producers to be paid less than it costs to grow and harvest their crops. For instance

, the

price of coffee beans has dropped dramatically over the past couple of years, but have prices reduced in the shops ?
So these developing countries are caught up in a double ' whammy ' of high interest payments and reduced prices for their exports. The irony of the situation is that many of the debts owed by the developing world,

has

been more than paid back in high interest rates over the years. They have paid off more than their original loan. The only winners at the moment are money lenders and commodity dealers.







Aguedea Ordenna a Nicaraguan Coffee Producer calls in on morning coffee during Fair Trade Fortnight

---